Early Intervention Physical Therapy
Movement is a crucial part of your child's life. How your child interacts with the environment is one of the most important aspects of growing up. That is why we are dedicated to providing physical therapy services that ensure your child's successful physical development and motor skills – despite challenging delays or disabilities.
If you're still curious about what Early Intervention is, the Center for Parent Information and Resources provides insight.
How Physical Therapy Helps Your Child
The goal of pediatric physical therapy is to enhance your child's quality of life by improving his or her:
Gross motor skills needed for everyday interactions.
Ability to progress through physical motor milestones and move through natural environments.
Regardless of the delay that your child faces, we work with him or her to steadily improve physical situations and mobility. We can implement a multitude of therapeutic approaches, equipment, and strategies that make it easier for your child to perform necessary movements. Such physical motor skills may include:
Rolling
Sitting
Crawling
Walking
Climbing
and many more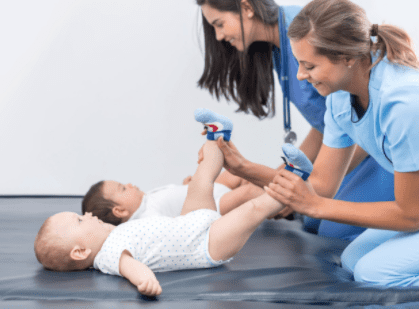 Supporting your child through each step of physical therapy, we work with him or her to establish these necessary attributes:
Strength
Range of Motion
Endurance
Posture
Balance
Coordination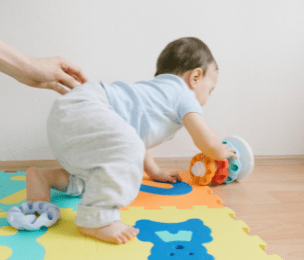 How Our Pediatric Physical Therapists Help Your Child
No physical delay is a match for the kind, patient, and experienced therapist that will interact with your child. Early Intervention-focused physical therapy demands a compassionate, supportive therapist that sees your child all the way through his or her developmental milestones. To help alleviate as much of your concerns as possible, be aware that:
We don't make your child's therapy a burden. Your child's physical therapist will always come to your chosen place or setting.
Giving your child the physical support and motor skills to navigate their environments means giving them, and you, emotional support as well. Your child's therapist builds a personal relationship that allows for friendship, trust, and real progress in physical therapy.
We physically lend our hands through the movements and exercises to always be there for your child. Our professional experience gives us the insight to build a therapeutic environment that helps your child to reach important milestones in physical motor development.
Examples of what your child should be doing at 24 months…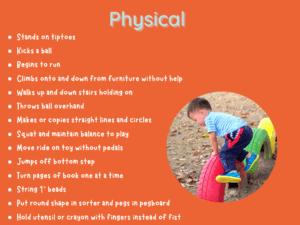 See these resources for additional information on the average development and physical stages of your child's movement:
We offer our Physical Therapy services in multiple counties across Pennsylvania including: Berks County, Montgomery County, Lebanon County, Schuylkill County, Lehigh County, Chester County
We are available to answer all of your questions and give you the reassurance that you need. Right Start is available to provide our services to your child – in your home, daycare, or community – at no cost.