Your child's early communication skills will begin to develop from the day that they are born. Although most babies won't say their first word until about one year old, other leading child development experts reinforce that early communication skills in infants goes beyond just talking. In fact, sounds, facial expressions, gestures, and body movements all work together to allow your child the ability to communicate both their thoughts and feelings!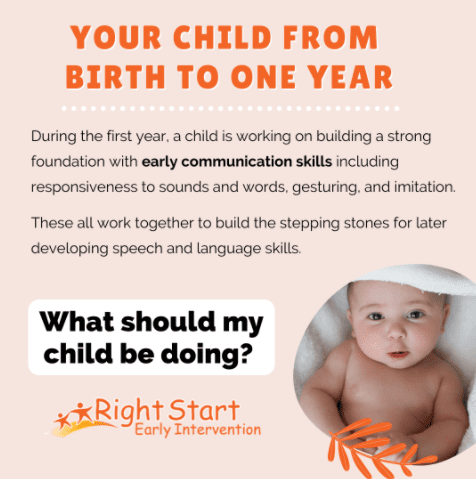 Early communication skills in infants are important as they help set the stage for the remainder of their language and communication milestones. This is why it is crucial to give your child plenty of opportunities to communicate with familiar individuals. The more you communicate with your child, the more they will communicate with you and develop their language and communication abilities even further. Not only does regularly talking to, interacting with, and responding to your baby promote early communication skills but it also makes them feel secure and loved.
Communication milestones allow us to determine whether a child's growth is on track. Parents should be aware of common communication milestones so that they can encourage their children's development and seek early intervention if they are not being met. Right Start Children's Services is committed to aiding families through serving as an early intervention resource and support while providing education and assistance to help your child develop new skills. That is why we created a milestone chart to help you keep track of your infant's early communication skills from birth to age one.
Check the communication skills your infant has reached by the end of one year by downloading our
All children develop at different rates, but for the most part, they learn early communication skills on a natural schedule. Babies learn by observing, so the earlier you begin to recognize and respond to your child's efforts to communicate, the quicker they can develop their communication skills.
How to Improve Your Child's Communication Skills
As a parent or caregiver, your infant's early communication skills will continue to develop when you regularly respond to their efforts to "tell" you what they want or need. Zero To Three recommends some of the following tips to help your infant develop communication skills:
Respond to your baby's gestures, sounds, and facial expressions
When you make eye contact with your baby, respond to their coos, and talk back to them, it tells your baby that their communications are important and effective. This will encourage them to continue the development of communication skills.


Talk with and listen to your baby
Talking to and listening to your baby when they make sounds or responds to your voice will help them see themselves as good communicators.


Read books to them
Choose books with bright colors, rhymes, photos, and different textures. When you read to them, point to words or objects when you say them. Let your child choose the books you read to them because the more interest they have in the book, the more they will enjoy it and be attentive.


Narrate what you do as you go about your daily routine
When you talk about what you're doing as you do it, your child will be able to associate words with actions and objects.


Make simple, clear, and appropriate requests for your child's age and ability
Once your child is about one year old, you can give them simple instructions such as "go get the ball" to encourage their listening skills and see if they can understand your communication efforts.


Be a good role model
Your child is always watching and listening to you. If you talk to others with kindness and respect, your child is more likely to follow in your footsteps and take on your manner as they develop their verbal skills.
Delays in Communication Development
Delays in communication development are frequently the first signs of developmental problems in children. Families who have concerns should seek help sooner rather than later by first consulting with a doctor. The earlier you are able to recognize a problem in your infant's development, the earlier you can get them back on track. 
If you'd like us to assist you in completing the early intervention referral process for you, you can fill out our online referral form to refer your child for an evaluation to see if they are in need of our services. 
Right Start provides a full range of services to assist infants, toddlers, and children with developing their communication skills. Not only do we cater professional services directly to the individual needs of you and your child, but we also come to you, providing assistance in home, at school, daycare, and community settings!
Right Start Children's Services is committed to providing the highest quality early intervention and pediatric therapy services to every child and family we are privileged to serve. If you have any questions regarding the development of your child's early communication skills do not hesitate to contact us or complete the referral form to schedule an evaluation.