Delayed speech in toddlers can have a significant impact on their personal, social, and academic development. In fact, speech and language are one of the most common developmental delays in children according to Healthy Children. Although, just like any other early childhood development milestone, children adopt speech and language skills at their own pace. So how do you know if your toddler is a late bloomer or experiencing a speech delay? Continue reading to learn more about identifying delayed speech in toddlers!
Childhood development milestones are skills and behaviors that help us track what children should be able to do by a certain age. Put simply, a speech delay is when a child isn't developing their speech and language skills at the expected rate. Although speech and language skills differ, they still overlap. For instance, a toddler with a language delay may be able to say words effectively. However, they may have a hard time putting those words together to form phrases. On the other hand, speech delayed toddlers may use words and phrases to express themselves but they can be difficult to understand.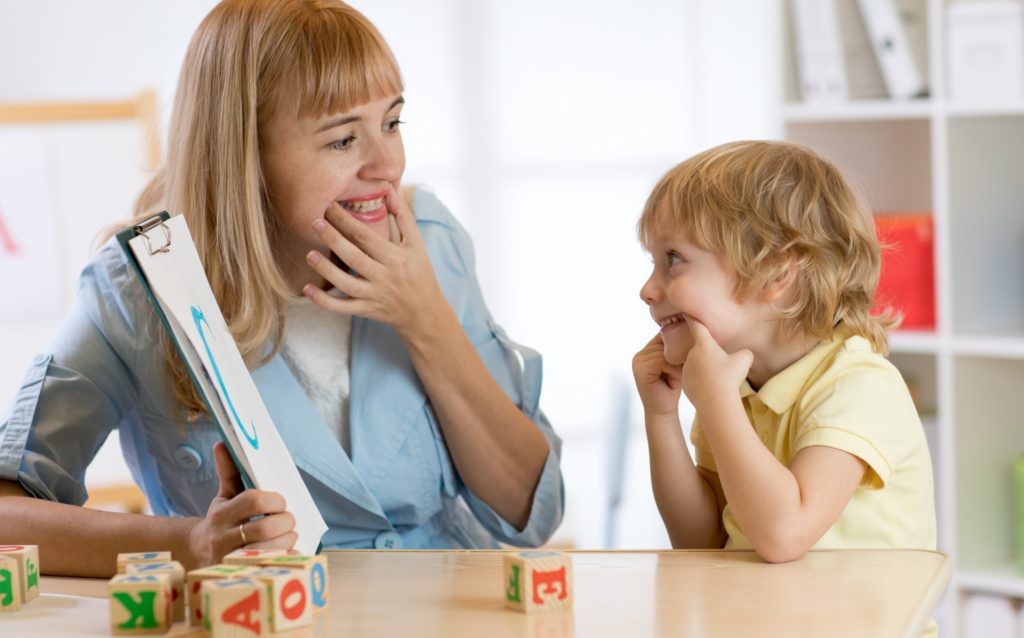 Speech Development Milestones
Speech development milestones represent, on average, the age that children will accomplish the listed milestones. Typical speech development advances through stages of cooing, babbling, repetition of heard speech, and slang. This is then followed by word combination, and sentence formation. Delayed speech in toddlers is prevalent when these milestones are not met after significantly long periods of time after they are expected to be. Babies who do not respond to sounds or vocalize at all should be checked by a doctor immediately.
What Causes Delayed Speech in Toddlers?
Delayed speech in toddlers can occur for various reasons. Although, the top causes include: oral motor problems, hearing or auditory processing issues, and developmental delays and disabilities.
Oral Motor Problems:  Many toddlers with speech delays have problems in the Broca's area: the part of their brain responsible for speech production. This can be due to childhood apraxia of speech (CAS) where children have difficulty making oral movements when speaking. For instance, the muscles and body parts responsible for helping them talk may not work as they should. This can cause them to struggle with producing sounds and words.
Hearing or Auditory Processing Issues: When your child has difficulty hearing, their ability to speak and understand others is significantly impacted. Children with auditory processing disorder (APD) cannot understand what they are hearing the way that others can. This is because something interferes with the way their brain recognizes and interprets sounds. In other words, their ears and brains are not fully coordinated. 
Developmental Delays and Disabilities: Developmental delays and disabilities impede the part of your child's brain that helps them interpret and process words. This trouble with language processing results in delays in the understanding of or receptive language and/or the production of or expressive language. Speech problems of the expressive or receptive delay type tend to manifest as minimal talking or not talking at all. Your child may seem to struggle to express themselves and/or struggle to understand what is being said by others. Children with these types of delays may have delays in other developmental areas. Besides speech and language, their social-emotional, physical and cognitive development can also be affected.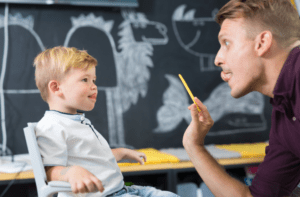 The most important thing to remember about speech delays is that early diagnosis and treatment makes a difference. The earlier you are able to identify delayed speech in your toddler, the faster you can help them improve! There are many steps you can take when you suspect a delay. 
First, take advantage of resources such as developmental milestone charts and follow any resource accounts on social media. You can also register for our series: "All About Toddlers" which are Parent Education talks led by a Pediatric Speech & Language Pathologist. These free, virtual talks will help you gain a better understanding of your child's speech and language development! In addition, you'll be able to learn how you can help your child learn to talk and become a better communicator. There is also the opportunity for questions and answers with a professional in their field!
Talk to your doctor as soon as possible if you believe your child is experiencing delayed speech. Then, if your child is between the ages of 0 (birth) to 3 years, get in touch with your local Early Intervention Program to see if your child qualifies for services. Our early intervention speech therapy helps treat children with communication challenges, both in how they speak and how they understand communication. If you'd like assistance with the early intervention process, kindly fill out our referral form and we will get back to you with the next steps!
If you have any comments, questions, or concerns, do not hesitate to contact us. Our team of experienced, trained, and friendly early intervention therapists are here to help – at no cost to you!